I had a random week of vacation at the end of November. Everyone was working so I came home to Burlington and luckily I got to spend my week off with my mum. This meant a week full of cooking and eating!!  SO exciting!
Mum was putting up all her Christmas decorations, and I'm useless when it comes to helping her decorate so I offered to make lunch. I decided to use whatever I could find in her fridge. I spotted my favourite packaged salad mix from Costco called Sweet Kale Vegetable Salad salad kit. It is SO much better than an average bag of mixed salad greens. This salad comes with broccoli, brussels sprouts, cabbage, kale, chicory, dried cranberries, roasted pumpkin seeds and a delicious poppyseed dressing.
I pulled out some shrimp from the freezer, a protein my mother always has on hand, which were peeled and deveined. I went through my mothers amazing spice collection and as always went right to my favourites: Coriander powder, Chili powder, Cumin powder and Salt.  Simple. I mixed the shrimp, only to realize I wanted them crispy.  So I added some chickpea flour to the mix like a
pakora.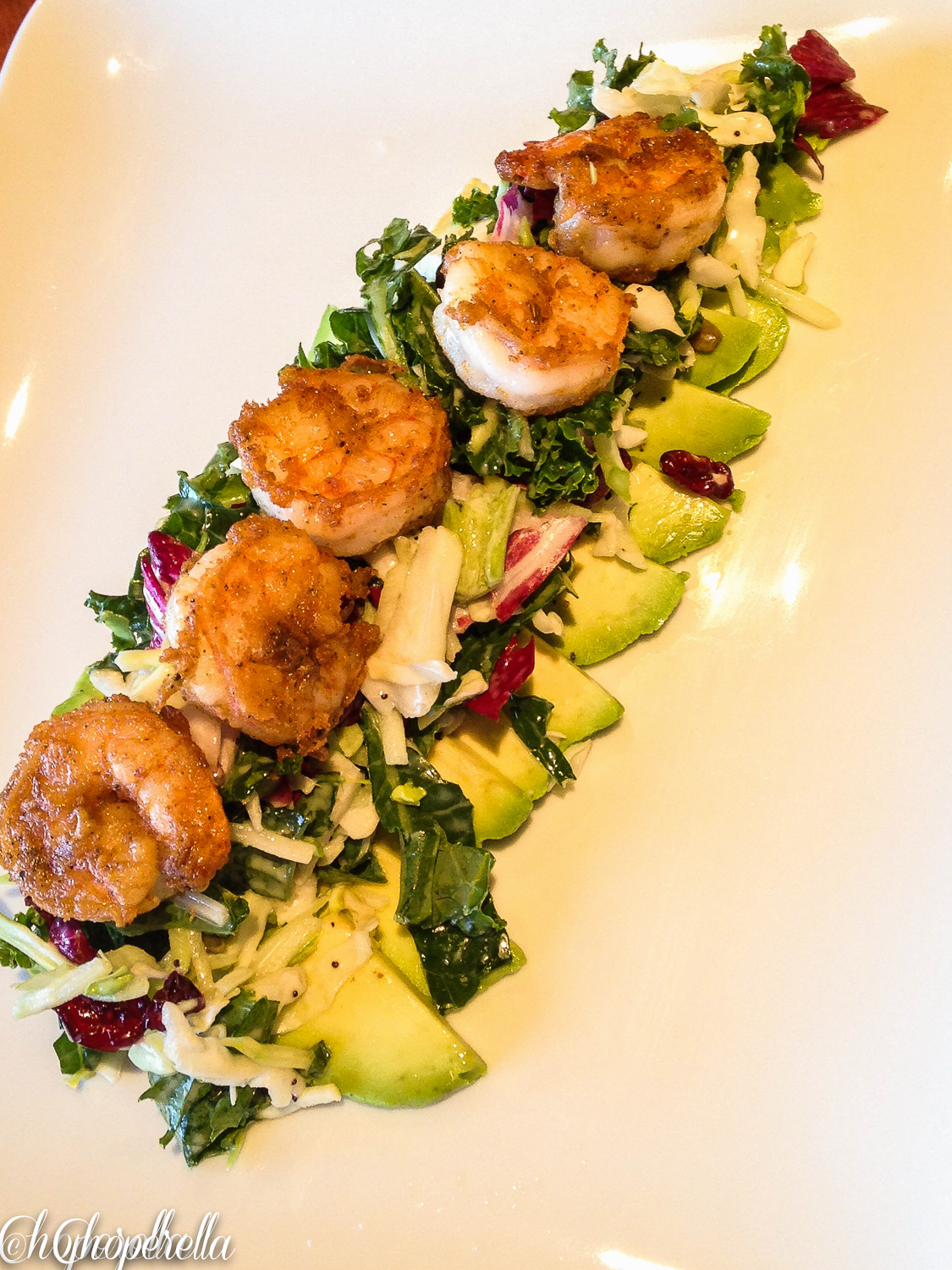 Needless to say, it was as delicious as it looks and my mum enjoyed it!! (Which is always a plus in my books, since she's such an amazing cook).
20 Raw Shrimp (Defrosted, deveined, and peeled)
1 Bag of Sweet Kale Vegetable Salad salad kit (available at Costco)
1 Tbsp Cumin Powder
1 Tbsp Coriander Powder
1/2 Tbsp Chili Powder
3 Tsp Salt
2 Tbsp Chickpea Flour (Graham Flour)
2 Ripe Avocado's
1 tsp Pepper
1 1/2 Tbsp Coconut Oil
1. Defrost the Shrimp. Wash and dry them gently. This will allow for the spices to stick.
2. In a bowl, toss the salad mix together with the dressing, and keep in the fridge until ready to plate and serve.
3. Coat the shrimp with the cumin, coriander powder, chilli powder, 2 tsp salt and the chickpea flour. Toss to combine and it should feel like they have a bit of a batter coating. If you feel the batter is too thick, add a little bit of water about 1/2 tsp at a time to thin it out slightly.
4. Peel and slice the avocado's thinly, allowing for half an avocado per person. Place the avocado's nicely on the plate and season with salt and pepper.
5. Arrange the sweet kale salad on top of the sliced avocado neatly. Keep the plates aside while you cook the shrimp.
6. Heat a pan with the coconut oil on medium high heat. Once the oil is hot, cook the shrimp on each side for approximately 2 minutes. Shrimp cook very quickly so be sure not to overcook them. As soon as they have turned pink, the batter is browned nicely they will be done. Place them on a paper towel to drain some of the excess oil.
7. Arrange 5 shrimp per person on top of the salad. Serve immediately while shrimp are warm.
8. Enjoy!!

Servings : 4
Ready in : 20 Minutes
Course : Appetizer, Entree, Salad, Sides
Recipe Type : Dinner, Lunch
Ingredient : Avocado, Kale, Shrimp