Love hummus? Love beets? Put the two together and you can have the best of both worlds!
This hummus is absolutely beautiful. It is Full of vitamins and minerals, packed with protein, it is beautiful and has some zing to it too! Pair it with some veggies to dip, some pita, crackers or even use it in a delicious sandwich like I did.
Once you have your beets roasted, it becomes as simple as adding everything into a processor and letting it do the work. The hardest part of it all is not getting your hands stained red when peeling….wear gloves!
I have to explain the importance of using HIGH quality olive oil in this recipe. I use Bogaris. It's a Fresh Pressed Olive Oil sourced from Chile and pairs great with cheeses, salads etc. because of its enriched flavour. Currently I source mine directly from the states. If you're interested, visit the site and learn more!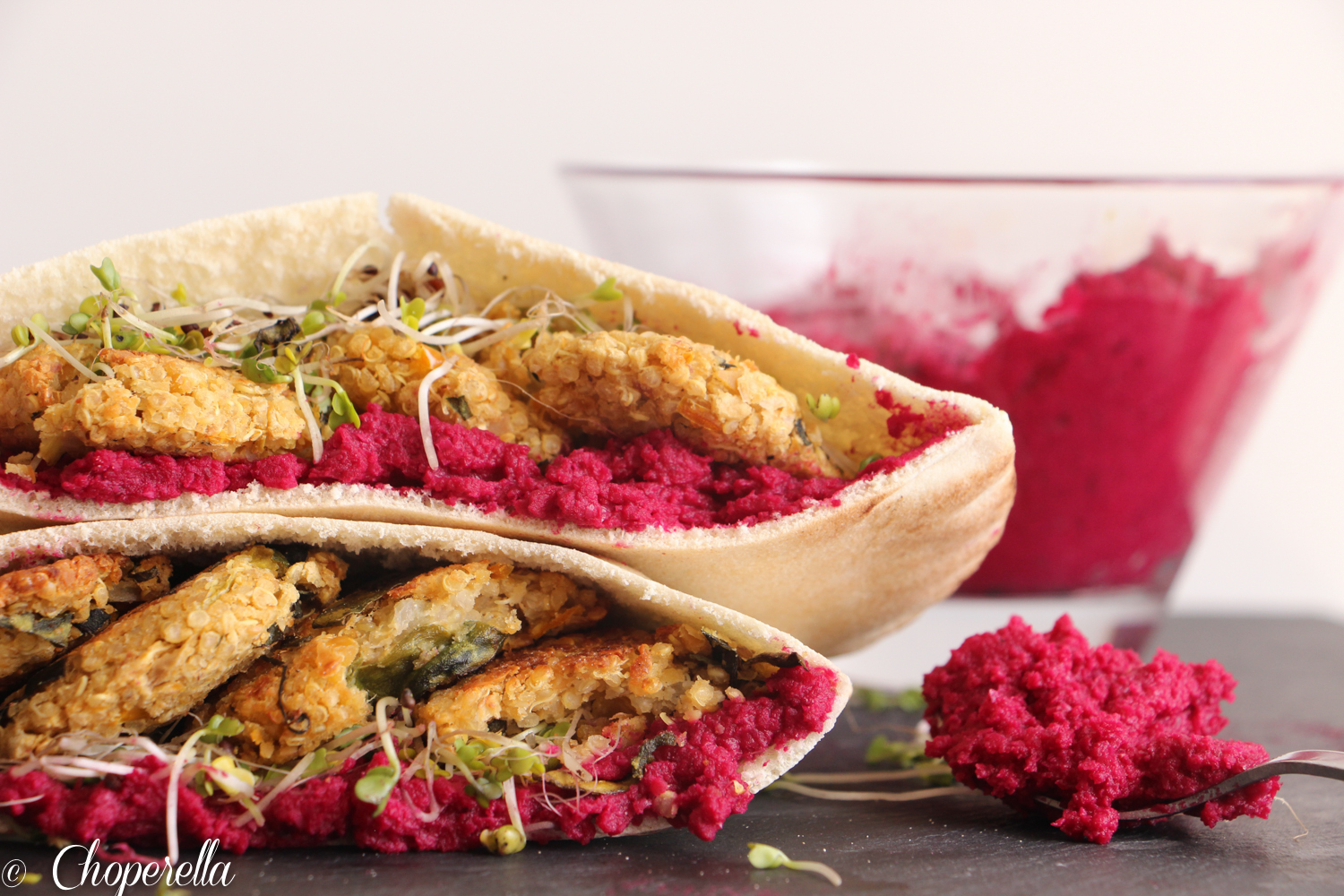 Why bother buying hummus (it's expensive!) when you can make it at home, it's simple, easy and delicious!! It will last for a week in the fridge, but rest assured it won't even last longer than two days, it's that good.
Enjoy!
1 Small Red Beet, Roasted
1 540ml Can of Chickpeas
Zest of 1 lemon
Juice of Half a Lemon
1 tsp Tahini
1/4 cup Good Quality Olive Oil (I use Bogaris)
Pinch of Salt
Pinch of Ground Pepper
2 Cloves Garlic, minced

1. Once the beet is cool. Peel it and put it in the food processor
2. Process on high until it's a little chunky. Then add all remaining ingredients except for the oil.
3. Slowly drizzle the olive oil in as the mixture blends. The mixture will be a smooth texture once all the oil is blended in. Feel free to blend less if you like it chunkier.
4. Once fully combined, taste and season to preference.
5. ** To Roast Beet: Pre-heat oven to 425. Lightly brush olive oil on the beet and cover in foil. When the oven is preheated, roast the beet for 30-40 minutes until soft.